April 21, 2008
We have a daughter
At 2:30 a.m. on Saturday, April 12th, Heather came in and abruptly announced that her water had broken. Since it was exactly 3 more weeks till her due date, I was somewhat surprised, to say the least. I got up and started grabbing clothes (since when Zac was born I was stuck at the hospital for 5 days in the same outfit) and called my mom to come over and stay with Zac. Heather was incredibly calm under the circumstances and got ready very quickly. We got to the hospital at 3:30 a.m. and got settled into the room within 30 minutes or so. Poor Heather started active labor around 4:30, and even though the Nubain they gave her wasn't cutting it, she wasn't able to get an epidural until 8:15. There were a few really rough hours in there, but she did great until they could get her some relief. At 11:15, the doctor came in to check her and decided she was about ready to push. She delivered Madelyn Grace at 11:48. Madelyn was 19" long and weighed 6 pounds and 15 ounces- not too bad for being 3 weeks early! We took her home on Monday the 14th. We've been so blessed with tons of help from my mom and meals from about 6 people so far. Zac is doing really well with his sister and loves to hold her (with Mommy and Daddy's supervision!). Here's a picture of the two of them: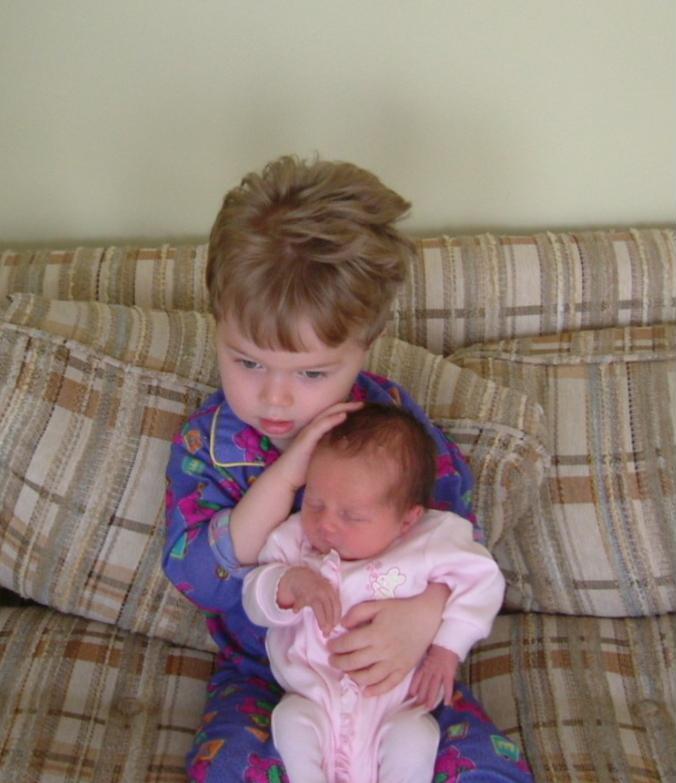 Posted by: jadawin at 01:47 PM | No Comments | Add Comment
Post contains 250 words, total size 1 kb.
September 03, 2007
That was not very good
One thing I've learned from being a father is how unintentionally hilarious kids can be. A couple of weeks ago, I came home from work and Zac was wailing upstairs. I went up to see what was going on and found him in the bathroom. He had just gotten up from a nap and gone to the bathroom, and my wife had laid him over the edge of the sink to wash his hands. Apparently he had not found it very comfortable and wasn't being shy about expressing it. The part that cracked me up was him saying (with tears gushing down his cheeks and an expression of total dismay on his face) "That was not very good!" He's used it several times since then, but that first unexpected time was by far the funniest.
Posted by: jadawin at 01:25 PM | Comments (6) | Add Comment
Post contains 140 words, total size 1 kb.
September 02, 2007
Back from the dead
Let's try this again- maybe I can update this time.
Posted by: jadawin at 09:30 PM | No Comments | Add Comment
Post contains 14 words, total size 1 kb.
Biking to work
On Friday, I finally did something I've been wanting to do for a long time- I biked to work. I guess I got the notion back in the spring or summer of 2000, when my brother-in-law got me back into biking. At the time, he lived a little over a mile from the UT apartments over on Sutherland, where the Third Creek Greenway started at the time (I think they have extended it). He mentioned how he had been riding on the greenways, and it sounded pretty cool. I was working second shift on the help desk and had some time during the day. Back then, I just had my old Huffy 10-speed that I had gotten for Christmas back in 1986, but I managed to make several rides with him from his apartment (I'd just unceremoniously dump the bike in the back of the Civic hatchback I had at the time and drive over there) down the Third Creek Greenway, pick up the Neyland Greenway at the river, and ride down to Volunteer Landing. We'd stop for a break at the marina just down from what used to be the Riverside Tavern, and head back.
After a few months, we quit- I don't really remember why. My bike was getting in worse and worse shape, and I didn't want to invest the money in a better one. I was about 13 miles of mostly bicycle-unfriendly road away from work. I knew that I would definitely need a shower assuming I could even make it in the first place, and there were no facilities. So my dream of riding to work was put on indefinite hiatus.
In 2005, I finally bought a better bike- a Trek 350- from a co-worker. I rode it around the surrounding neighborhoods and eventually over to Tyson Park a few times. I wanted to make all the way down to Volunteer Landing and back from my house, but never consistently rode enough to feel like I could do it. I did drive over to Sutherland with the bike on the rack one football Saturday in 2006 and rode down to campus. I stopped at a little food stand along Neyland and took a break, watching one of the day's games on a TV they had set up outside. It was late October, I believe, and an absolutely perfect day for it. I hope to do that again this year.
When we moved into the new house off Fox Lonas in March, one the few things that dissatisfied me about the house was the distance (and quality of roads) to the nearest greenway entrance. However, in May I managed to ride across Park Village to Crosspark Drive and from there up to the Bridgewater entrance to the Ten Mile Creek greenway. They finally put a connector in behind the Walker Springs Wal-mart, so I could get all the way over to Vanosdale via the Jean Teague greenway. I figured all in all I was doing about 8 miles or so round trip- child's play for a serious cyclist but enough to give me a workout. I started riding that route on Sunday afternoons.
After a few months of doing that most weekends, on Sunday, August 13th, I decided to try to get over to my office at Centerpoint (Lovell and Pellissippi). I took Fox Lonas down to Cedar Bluff, then went up to Sherrill Lane and took it around to get on Pellissippi at Dutchtown. Fortunately, Pellissippi has a wide shoulder even though it is heavily traveled. Even though it was over 90 degrees that day, I managed the round trip of about 11 miles without too much trouble. I then got approval from work to order a laptop backpack, as the shoulder bag I had was totally impractical for biking.
On Friday, August 31st, we had my car in the shop and Heather wanted her car for errands that day. There was a 40% chance of rain but fortunately it never materialized. I got a much later start than I had intended (7:20 am) but I decided to go for it anyway, and really had no issues with traffic. While I was a little hotter than I would have liked when I got to work 25 minutes later, it was nowhere near as bad as I had feared it might be. I left at 3:45 p.m. to beat the traffic, and made it home safely. I was pretty exhausted that night- a lot more than I had expected- but over all was just pleased and proud.
I don't know how often I will do it again. I like the idea of saving gas and knocking out a workout during my commute, and 25 minutes either way is not bad at all. However, weather concerns me, and I would hate to get in a situation where I needed to make a site visit and was stuck at Centerpoint without a car. We don't have the best place to keep a bike, either- I ended up parking it in an empty cube the other day. Whether I do it again soon or not, I'm still glad I finally did it.
Posted by: jadawin at 09:21 PM | No Comments | Add Comment
Post contains 866 words, total size 5 kb.
April 19, 2007
Vacation
My first beach trip in 4 years is coming up next week. The last one was my wife and I in Playa del Carmen at a five star all inclusive. This is a lot more modest- a private room in a youth hostel in Clearwater, FL with my 2-year-old along. Of course, back in 2003 we were both employed with no dependents- now I am supporting us solo. We've actually stayed at this place before 10 years ago when we were a lot more cash-strapped than we are now- for two of us it was fine but I'm a little concerned about how the Number One Son will deal with 11 hours in the car and cramped quarters. We're planning on visits to a local zoo and the Florida Aquarium. I'm really looking forward to seeing how the NOS reacts to the giant coral reef exhibit there.
Posted by: jadawin at 02:28 PM | No Comments | Add Comment
Post contains 148 words, total size 1 kb.
Hello world
I realized with some dismay that it's been 10 days since I signed up for this site and I still hadn't made the first post. I've toyed with blogging for years now, since I've been reading them for over five years, but I still don't know what I want this blog to be. Perhaps Garfield Ridge will be my model- he seems to have a good mix of vanity and politics. At any rate, I have something up now- let's see if it gets any easier from here.
Posted by: jadawin at 12:23 PM | No Comments | Add Comment
Post contains 90 words, total size 1 kb.
23kb generated in CPU 0.04, elapsed 0.064 seconds.
32 queries taking 0.0385 seconds, 66 records returned.
Powered by Minx 1.1.6c-pink.